A few years ago, on a cloudy Thursday in late September, anyone with a telescope in Center City might have spotted a rare blue moon over Market Street. Actually, they would have seen someone's denim-clad butt sailing over the city.
Adjusting the viewfinder for a better look, they would have then seen the rest of me on the other end of the Air Derriere, terrified and pale as a cloud, but thoroughly enthralled.
And I do know exactly how I looked, because I saw myself reflected in the 61st story window of Liberty Place, harnessed into a helicopter.
The image horrified me: I could see my whole airborne body because there was no door on my side of the helicopter. NO DOOR, I TELL YOU!! The production crew needed to remove it (or so I was told) to squeeze our cameraman, a high-tech video rig, our pilot, and me into the big whirligig for a TV commercial I was producing for Jefferson Hospital.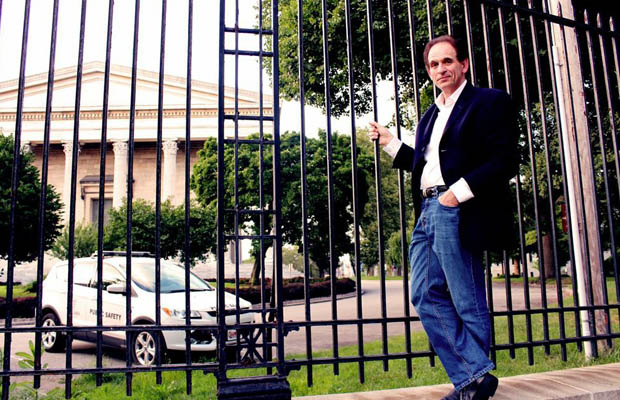 Conceived to tout Jefferson as a top-ranked U.S. News and World Report Hospital right in Philadelphia, my concept began with an astronaut's view of the world. Then we free fall, plunging toward earth and breaking through clouds. Just as we brace for impact, we recognize Philadelphia and level off, coasting above the Schuylkill River. Tilting left over Market Street, we then race toward City Hall. And just as we arrive, we stop … hover over Billy Penn … and then descend toward Jefferson.
To film the flight and connect it seamlessly to a separate shot zooming into the iconic Jefferson entrance would require precise cinematography. Who better to take us from outer space to 11th and Walnut Streets than Vilmos Zigmond, the director of photography for Close Encounters of the Third Kind, my co-passenger?
As this was my concept, my client, and my shoot, you could say my ass was on the line. It was also one of my company's most visible projects to date, a proud moment in my career.
Earlier that week, I had to tell Liz Dow, President of LEADERSHIP, that due to the production I'd be missing a day of classes. When we busy movers and shakers were accepted into the program, we made a sacred pact to attend every class. But this required an exception. Gracious as always, Liz granted it.
"By the way, I wonder if you would do me a favor." For Liz? For LEADERSHIP? Anything.
"We're holding one of our final classes at Girard College. Since you went there, I was hoping you might talk about your experience. It could be very powerful. That is, if you're comfortable discussing it."
Her request caught me off guard. I was not comfortable talking about Girard. When I was 8, my mother sent me to the famed boarding school for fatherless boys. Mom was deaf, and struggled to support me after dad died. In theory, I'd get room and board, three squares and a prep-school education. In reality, I was subjected to abusive governesses, pedophile housemasters, anti-Semitism, and a few other wounds I'd carry into early adulthood. Much as I adored Liz and LEADERSHIP, I wasn't eager to tug at that scab.
I told her I would think about it.
But that day in the chopper, calling out camera angles while flying with the man who also filmed The Deer Hunter, Girard was the furthest thing from my mind. Life was good. Frightening, challenging, but good.
After landing to refuel, we reviewed the rough footage. I was elated about what we'd shot. But I wanted another angle for the Billy Penn scene. It was a key moment, and I needed an alternate take for the edit, so I suggested shooting Billy's left side as well.
But this was no drive around the block. Shifting the entry of the shot meant mapping and executing a whole new route. To peer over Penn's left shoulder, we plotted a flight path starting a few streets north. From the Delaware River flight heliport, we levitated up and flew toward Spring Garden versus Vine Street.
The fear nearly gone, I could now look straight down from sky, with nothing between me and the Tonka-sized city below. Demarcating Broad Street was the tiny white steeple of the Inquirer building. A little farther down, a toy-scale community college. Then Eastern State Penitentiary. And then, just to the right of Eastern Penn, I saw an expanse of land that looked familiar and foreign at the same time.
From our height and distance, I couldn't quite place it. But as we flew closer, I recognized a huge triangular building, and the whole scene came into focus. The mighty fortress was the spiritual compound anchoring the Girard College campus. On my joyous day of accomplishment, I was high in the sky, over Girard College. It took a second, but then I got the divine joke. I looked down and roared.
I was over Girard College. Literally. Emotionally.
I made a mental note to call Liz when we landed to tell her I'd be delighted to speak at her Girard class.
Alan Sharavsky
President
Sharavsky Communications